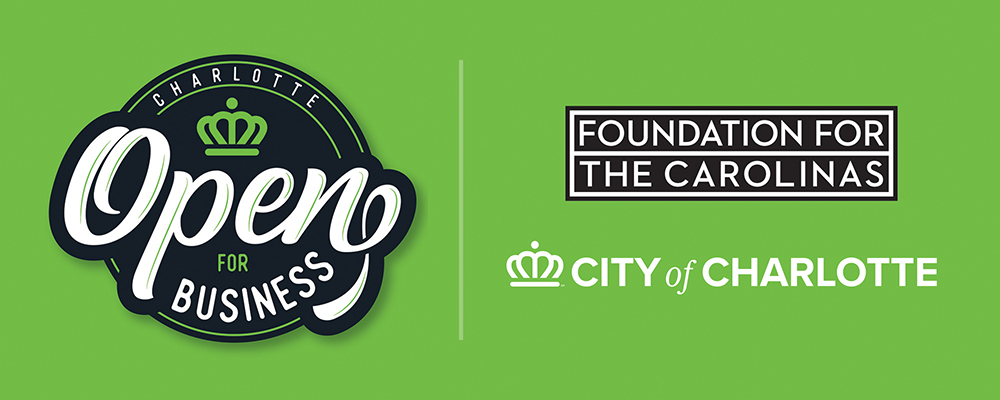 Access to Capital
Small Business Recovery Program
Thank you for your interest in the Open for Business Access to Capital program. Through the small business recovery program, the City will distribute $30 million in federal CARES Act funding to small businesses headquartered within the city limits of Charlotte.
With the goal to get money in the hands of struggling businesses as quickly and equitably as possible, applications will be randomly selected via software each day for review – rather than on a first-come, first-served basis – ensuring that all areas of Charlotte are represented.
The program is a part of the City's Open for Business Initiative and will distribute grants of either $10,000 or $25,000, depending on number of employees.
Foundation For The Carolinas serves as the City's grantmaking partner for this effort.
Apply Now | Resume Application Printable Application
Apply Now | Resume Application Printable Application
Para recibir la solicitud en español, deberá pedirla con antelación. Si necesita asistencia, escriba a cltcitygrant@fftc.org / 704.998.6499.
La demande de subvention sera disponible sur demande en français, et une assistance sera disponible sur cltcitygrant@fftc.org / 704.998.6499.
该申请表可应要求提供中文版,敬请联系 cltcitygrant@fftc.org 寻求协助。
Đơn đăng ký sẽ có sẵn bằng tiếng Việt theo yêu cầu và trợ giup sẽ có tại cltcitygrant@fftc.org / 704.998.6499.
अनुरोध गरिएको खण्डमा आवेदन पत्र नेपालीमा उपलब्ध छ/हुनेछ तथा सहायता cltcitygrant@fftc.org-मा उपलब्ध छ/हुनेछ।
Foundation For The Carolinas and the City of Charlotte thank our partners in this effort: