Professional Advisor Spotlight 
Q&A with Meg D. Goldstein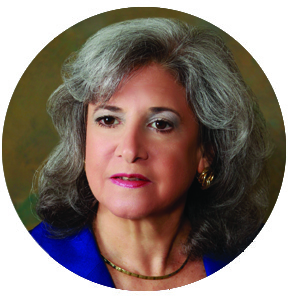 Meg Goldstein, a local estate planning attorney with her own practice in Charlotte, has been a valuable FFTC partner for decades. Meg encourages clients to consider innovative, efficient ways to incorporate charitable giving in their current and long-term planning. 
1. What is your relationship with Foundation For The Carolinas?
My initial contact with FFTC was in the 1980s when I helped a client establish an endowment fund. For more than 25 years, I've worked with FFTC staff to establish clients' philanthropic funds, and have had the privilege to serve on FFTC's Cabinet of Professional Advisors. My relationship with FFTC has been further strengthened through my volunteer service with Foundation for the Charlotte Jewish Community (a supporting organization of FFTC).
2. What value does your partnership with FFTC bring to your clients?
FFTC provides efficiency, stability, investment knowledge and excellent administrative services to my clients. FFTC is "client-centric" by prioritizing each client's goals, combining optimal flexibility and a thorough knowledge of charitable tax laws to maximize each client's philanthropic assets. A client recently wanted to establish a private foundation with illiquid and closely-held assets. I introduced him to FFTC and urged him to consider a fund there in lieu of a private foundation. He has now established and funded a large account at FFTC, which will support the community within his lifetime and after his death. After much research and consideration, my client realized that FFTC could satisfy all of his administrative, investment and philanthropic goals at the lowest cost possible. 
3. How do you encourage clients to consider giving as part of their estate plans?
Luckily, I have clients who have a passion for charity, using me as a conduit to structure a customized estate plan encompassing both familial and philanthropic approaches. On the other hand, most clients do not come to the table with philanthropy in mind. My initial client questionnaire asks, "Do you wish to make any charitable contributions upon your death?" During our initial conference we discuss legacy giving. My motto is, "Everyone can be a philanthropist." One person's legacy gift, when combined with the gifts of others, will help our community immeasurably and encourage others to join in the effort.
4. What would you share with colleagues who haven't yet partnered with FFTC?
FFTC shares its charitable resources and know-how at no charge to the professional community. FFTC does not hijack the process, but instead works with the client and the client's professionals as a team member.  When once asked what one word I would use to describe FFTC, I responded with "integrity." FFTC is a professional's best partner and advocate to ensure that clients will achieve their philanthropic goals.