FFTC Subsidiary Helps Victims of Recent Natural Disasters
With the devastating string of natural disasters in fall 2017, it was not surprising that E4E Relief saw record numbers of applications and grants. But as one of the national leaders of employee disaster relief programs, the organization has risen to the challenge for more than a decade.

When a disaster hits, many victims turn to nonprofits or federal and state aid. But for those whose companies offer it, E4E Relief – a subsidiary of FFTC – grants much-needed funds to repay evacuation expenses, fix homes and begin to repair lives. 
The company was started in response to 9/11 with just one client, and was spun off from FFTC as a wholly owned subsidiary in 2014. The organization currently serves more than 1 million employees nationwide at companies as diverse as mid-size businesses and Fortune 500 organizations. Its extensive client roster includes Wells Fargo, Salesforce, Family Dollar and McKesson.
E4E Relief works with companies to set up their individual programs – some contribute money for relief, others create payroll deductions for employees to donate, while some do both. It's not just natural disasters – E4E helps employees with expenses related to family emergencies, such as illness, death in the family, domestic abuse and house fires. 
And for the majority of the year, that is where the program's attention lies. But hurricane season brings a renewed focus on emergency assistance funds.  
"It was an extraordinary couple of months, but our team rose to the occasion," said Holly Welch Stubbing, a loaned executive to E4E Relief and Executive Vice President at FFTC. "The ultimate goal is always to assist people who are facing real adversity and to provide a readiness plan for companies who want to help their own during catastrophic disasters and hardships."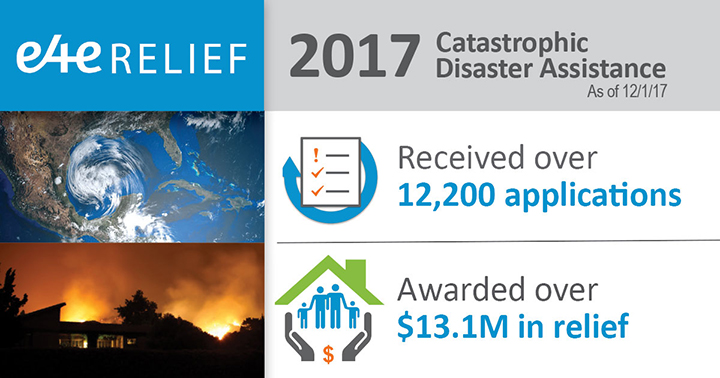 In fall 2017, following the impacts of Hurricanes Harvey, Irma, Maria and Nate, as well as the Santa Rosa wildfires, the numbers were staggering. By December 2017, the team handled more than 12,200 relief applications for those affected by the natural disasters. For comparison, E4E Relief received 6,500 applications for all of 2016, including for Hurricane Matthew victims. 
More than $13.1 million was issued across thousands of grants that helped disaster victims rebuild their lives, offset evacuation expenses, provide basic life necessities and support for home repairs. In addition, more than $5 million in donations flowed into programs managed by E4E Relief.
The team was aided by additional staff brought in specifically to handle the increased volume. A dedicated Disaster Command Center was established to exclusively support Puerto Rico, including a customer service representative who had fled the island when the storm hit.
"The work we are doing today is really the culmination of what we've built over the last 13 years," said Davida Rivens, Vice President & Director of Relationship Management for E4E Relief. "Whether it's a hurricane or a house fire or an illness, it's really about aiding people in a time of need. It feels good to to support our clients' employees through an employee relief fund program."
Learn more at www.e4erelief.org.